Can Laser Therapy Treat Knee Pain?
Can Laser Therapy Treat Knee Pain?
Written By ChiroSports USA on April 3, 2020
---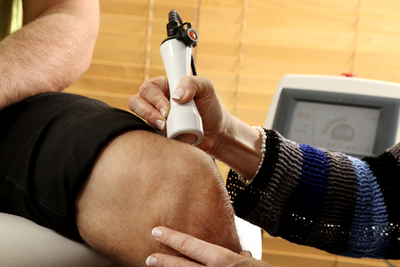 Knee pain is considered one of the most common ailments suffered amongst Americans. Thanks to sports injuries, accidents, and general wear and tear, more patients are seeking out treatment options for their knee pain. While gentle stretching and regular physical therapy are both great options, laser therapy is quickly gaining in popularity for those looking for an alternative treatment option for their knee pain.
Utilizing Laser Therapy for Knee Pain
When most individuals think of laser therapy in a medical environment, they think of surgical procedures where lasers are used to cut into the patient's skin. While that is a form of laser therapy, it's not the same form of laser that is utilized for treating knee pain.
The lasers that are used in surgical settings are often referred to as "hot" lasers because they require a specific setting in to be able to cut into a patient's skin. When it comes to treating knee pain in a chiropractic setting, cold laser therapy is utilized instead.
During a cold laser therapy procedure, varying outputs and wavelengths of low-level light are directly applied to the knee. The body's tissue then absorbs the lights, and your damaged cells will respond with a physiological reaction that helps to promote the regeneration of healthy cells.
Depending on the pain you are experiencing, laser therapy can help with:
Knee pain
Muscle strains
Pain associated with muscle spasms
Ligament sprains
Inflammation and more
Treat Your Knee Pain with Laser Therapy Today
Depending on the nature of your knee pain, there are several different ways that our team at ChiroSports USA can address it. While laser therapy may be a valid option for treating your knee pain, you may require further treatment that includes a combination of chiropractic care, physical therapy, and/or massage therapy.
Remember, pain is not a lifestyle – so don't let it control your day to day life. Whether it's occasional or chronic pain, we're here to not only help find its source but help you alleviate it.
Curious if laser therapy is a viable option for treating your knee pain? Then schedule your appointment today and get your questions answered.

Posted In: Chiropractic Laser Therapy Knee Pain