Getting Back into Shape After Quarantine with a Simple Fitness Routine
Getting Back into Shape After Quarantine with a Simple Fitness Routine
Written By ChiroSports USA on July 20, 2020
---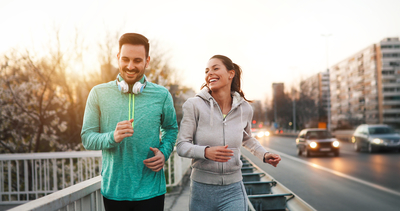 The nationwide quarantine orders have left millions of people altering their daily schedules and becoming more inactive than ever before. In fact, a recent study showed that activity levels amongst Americans have dropped by approximately 39%. With some states beginning to relax their quarantine orders, many are looking to get back into shape by starting a simple fitness routine.
Getting Started with a Simple Fitness Routine
Exercise and fitness recommendations have changed drastically over the year. Why? No one solution works for everyone and every body type. When they lift the quarantine, it's essential to note that there is no one right answer to getting back into shape. However, there are some excellent fitness tips that anyone can start incorporating into their fitness routine to get them started.
Start Setting a Daily Routine
Your schedule needs to include a wakeup and bedtime to help ensure you are getting adequate sleep, along with a planned time that you will dedicate to your new exercise schedule. The key is to fit it in when it best suits your needs so that your fitness time doesn't become an obligation, but scheduled time for yourself.
A New Fitness Routine Means Starting Slow
During quarantine, you've likely lost some of your previous gains (for those who were already fitness inclined), and for those who are just starting, the goal isn't to beat the rest.
Instead, start by taking a slow walk each day to get your heart rate up. From there, you may want to start adding in some weightlifting to help you burn calories longer. Start with 2-5lbs and build up as you start building strength in your muscles.
Nutrition Plays a Vital Role in Your New Fitness Routine
Properly fueling your body is critical here. So, make sure you are eating a well-balanced diet to ensure your body is getting all the nutrients it needs to sustain your new fitness routine.
Miss Fitness Classes? There Are Tons of Online Solutions
Were you a gym regular before quarantine? Do you miss your group class setting? Then why not check out the dozens of different online fitness options available? These online options can give you that classroom setting while still allowing you to practice social distancing.
Beginners Fitness with ChiroSports USA
If you need some simple fitness advice, then the team at ChiroSports USA is ready to help you out.
Need some help getting started with a fitness routine? Then contact us today or call (510) 475-1858 (Union City, CA) or (925) 462-2252 (Pleasanton, CA).

Posted In: Chiropractic Exercises Getting in Shape