Open to the Public: Meet the Artist!
Open to the Public: Meet the Artist!
Written By ChiroSports USA on March 16, 2017
---
Join us at our Pleasanton clinic on Saturday, March 25th from 4-7pm to meet Tom Matousek, the talented artist of all our clinic paintings. He has been featured by Disney Studios, Art Basel, the world's largest chalk festival, and more. Discover his unique artwork and even bring some home! You do not want to miss this opportunity!
Tom Matousek is a self-taught artist from Cleveland, Ohio, who has lived in the San Francisco Bay Area for nearly 20 years. He creates portraits in oil on canvas, in an abstract geometric, prismatic style. Tom's background is in creating large wall murals and theater sets, for which he won a Shellie Award (the East Bay Area's version of the Tony's) for theater set design.
In 2013, Tom was selected as DDR Corp's Artist in Residence. Through DDR, he traveled to various cities across the U.S. creating community art projects based on his unique style, and was the featured artist at the world's largest chalk festival in Pasadena in 2013 and 2014, where local residents participated in helping recreate his Jackie Robinson painting in chalk. In December 2013, Tom was featured at Art Basel in Miami. BMW unveiled their i8 concept car at his show. While at Art Basel, Tom presented pop artist Romero Britto with an original painting of himself. Britto commented, "At least 500 artists have painted me; yours is the most spectacular." Tom was recently invited to participate in a Disney sponsored event in Hollywood, An Affair of the Art, supporting the Ryman Arts Foundation which provides scholarships to young art students.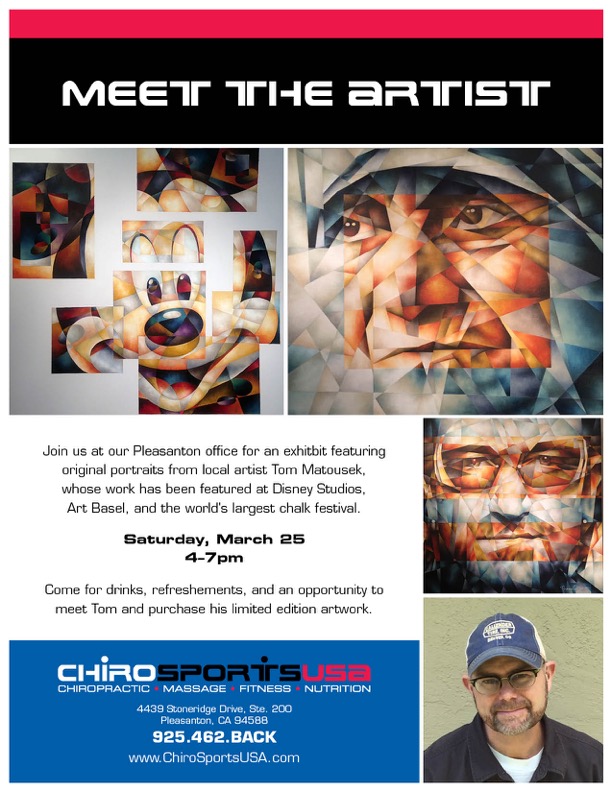 For more information and details about the event, please contact Tiffany: [email protected]
Tom's Disney Fine Art profile: www.disneyfineart.com/artists.php?aID=600matousek&p=4
His website:www.tommatousek.com

Posted In: Chiropractic News