The Use of Laser Therapy for Shoulder Pain
The Use of Laser Therapy for Shoulder Pain
Written By ChiroSports USA on August 30, 2021
---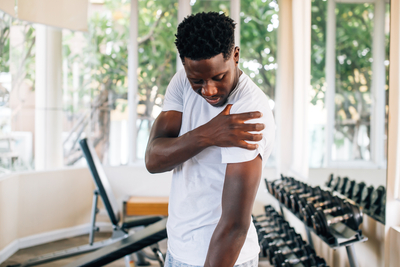 Whether you love surfing, mountain biking, or some other sport, there is a good chance you'll develop shoulder pain at some point. This complex joint can also suffer damage from work-related activities and daily wear and tear. Shoulder pain can significantly affect your daily life, as it may stop you from doing the activities you enjoy. Fortunately, there are effective treatments available. At ChiroSports USA, Dr. Abdollah Nejad, D.C. and his team are pleased to offer the innovative LightForce laser therapy system to patients with shoulder pain. It is a Class IV laser—the strongest type of laser therapy approved by the FDA.
Common Causes of Shoulder Pain
Your shoulder is a ball and socket joint that usually enjoys a significant range of motion and flexibility. However, when a medical problem develops, you're likely to experience shoulder pain, tightness, stiffness, and loss of range of motion and flexibility. Problems with the shoulder often originate with the soft tissues, such as the muscles, nerves, tendons, ligaments, or cartilage. Some common causes of shoulder pain include the following:
Frozen shoulder (adhesive capsulitis)
Torn rotator cuff
Swollen tendons
Pinched nerve
Sprains and strains
The Use of Laser Therapy for Shoulder Pain
The providers at ChiroSports USA often recommend the LightForce laser therapy system to patients with shoulder pain because it is an effective way to accelerate the healing of damaged or dysfunctional tissues. We can customize the settings on the platform to target either superficial or deeper-level tissues, depending on the patient's needs. This laser therapy system can even be adjusted to suit acute injuries or chronic problems, making it ideal for a range of patients.
Our patients enjoy the rapid pain relief they receive as the focused light targets the treatment area and triggers cellular responses. It's an effective way to reduce inflammation, ease pain, and speed healing without the need for drugs or surgery. Plus, there is no downtime required.
Laser Therapy for Shoulder Pain in Union City and Pleasanton
At ChiroSports USA, we're committed to continually investing in the latest medical technologies to help our patients get back to doing the activities they love and living life well. Our patients with shoulder pain see great results with the LightForce laser therapy system. We also have many talented massage therapists on staff to further accelerate your healing. To request an appointment, call our office in Union City at (510) 475-1858 or in Pleasanton at (925) 462-2225.

Posted In: Shoulder Pain Treatment Chiropractic