Treating Your Knee Pain with the LightForce Laser
Treating Your Knee Pain with the LightForce Laser
Written By ChiroSports USA on July 30, 2021
---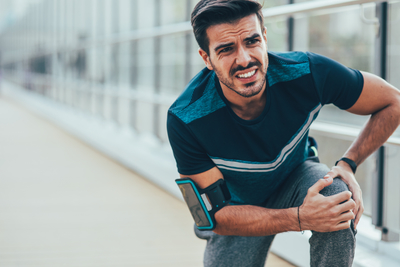 Since the knee is a weight-bearing joint, it's often subjected to damage due to wear and tear over time. In addition, sports activities and daily living activities can result in strain, inflammation, and pain. If you're experiencing an acute knee injury or you have chronic knee pain, you can benefit from laser therapy with the LightForce system. This innovative, robust treatment is available from Dr. Abdollah Nejad D.C. at ChiroSports USA in Pleasanton and Union City.
Common Causes of Knee Pain
Knee pain is quite common, and it may range from mild to debilitating. The knee is a complex joint comprised of bones, ligaments, tendons, fluid-filled sacs (bursae), and cartilage. Any one of these structures may sustain damage. Some of the most common causes of knee pain include the following:
Ligament tears
Meniscus (cartilage) tears
Knee arthritis
Fractures
Tendinitis
The Use of Laser Therapy to Heal Knee Pain
At ChiroSports USA, Dr. Nejad and his team frequently use the LightForce laser therapy system to treat patients with knee pain. We like this system because it doesn't merely mask the patient's symptoms; rather, it accelerates the healing process and targets the root cause of knee pain and related symptoms. Furthermore, it is a drug-free treatment that is noninvasive and very well-tolerated, with an excellent safety profile. Plus, the LightForce system is a Class IV laser—the strongest laser therapy approved by the FDA.
Laser therapy works by using focused light to interact with your body's cells. This interaction boosts the body's ability to heal itself. It also reduces inflammation and pain in the area, allowing our patients to not only recover faster, but recover better. During your treatment, we may check in with you from time to time to see how the laser therapy is affecting your knee pain. Your feedback allows us to make in-treatment adjustments to better aid your recovery.
Knee Pain Treatment in Union City and Pleasanton
Dr. Abdollah Nejad, D.C. and his team at ChiroSports USA are pleased to offer the latest medical innovations to our valued patients in California. These include the state-of-the-art LightForce laser therapy treatment platform, which is ideal for patients with knee pain caused by a range of medical problems. You can request an appointment with our laser therapy specialists in Union City by calling (510) 475-1858. For an appointment at our office in Pleasanton, call (925) 462-2225.

Posted In: Chiropractic Laser Therapy Knee Pain